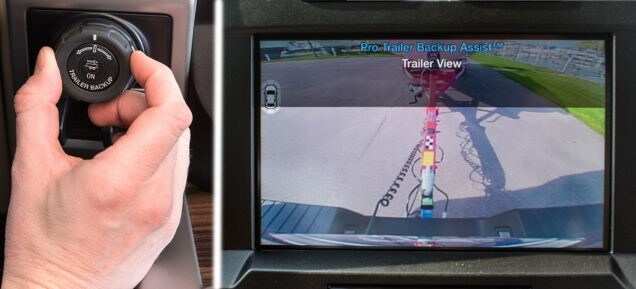 Picture this: it is a beautiful summer day in Northern California and your boat is loaded down with every snack, towel and piece of ice you could find in your house. After stopping for gas and grabbing even more snacks and drinks for the cooler, you finally make it to the boat ramp; it is time for a beautiful day on the water. You begin to slowly back your trailer down the ramp when you realize that backing up a trailer is like an unsolvable puzzle in reverse. After a couple of tries, you begin to get a little flustered. After all, the guy before you made it look so easy. As the line behind you gets longer, the pressure builds even more. If you're lucky, you'll get the boat in straight on the eighth try and you'll be left frustrated and exhausted.
Thankfully, this does not have to be the case in the upcoming 2016 Ford F-150 models equipped with towing packages. Ford's all new Pro Trailer Backup Assist will make the process easier than ever as users can directly guide a trailer as they monitor it through the backup camera. You simply have to turn on the mini steering wheel then twist the knob almost as if it is in a video game. As you direct the trailer, the F-150 steering wheel will automatically steer itself in a manner that will take all of the overwhelming mystery out of towing a trailer and will let you enjoy the beautiful day.
Now picture this: you just used your easy Pro Trailer Backup Assist to get the boat in on the first try and you are now relaxing in the sun and enjoying a nice warm breeze. Sounds a little better, doesn't it?