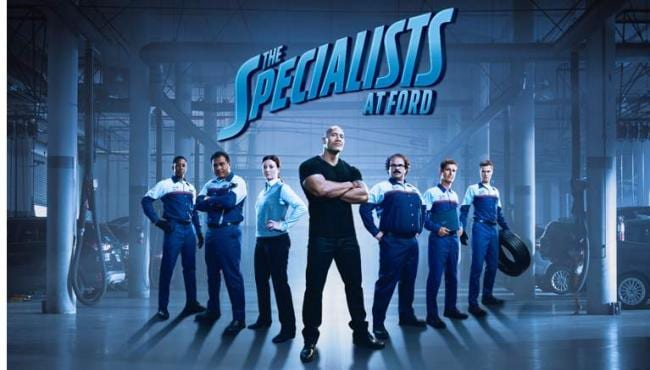 Ford is teaming up with The Rock this fall for their newest ad campaign. Called "The Specialists," this newest campaign from the automaker focuses on Ford service and parts.
The first commercial aired this October, introducing the team, which is led by screen action hero Dwayne Johnson. Johnson, who is a former pro-wrestler, has starred in such action hits as "San Andreas," "Walking Tall" and the Fast & the Furious series. This makes him the perfect choice to lead a ragtag group of Ford service specialists, who can change your oil, rotate your tires and replace your air vents, all with precision and style.
"I couldn't be more excited to be in partnership with Ford as their spokesman for service," said Johnson. "Representing their service department and the Ford individuals who are committed to taking care of their customers echoes one of my core enterprise beliefs, 'Always take care of your audience,' and whether it's in a movie theater or behind the wheel, taking care of people is what matters most."
Johnson has signed a multi-year deal with Ford, so this is just the beginning for the action star and his team. Take a look at the initial commercial spot below and be sure to keep an eye out for even more ads featuring The Rock and his team of "specialists."
?