Where Can I Trade in My Car Near Santa Clara, CA?
Maybe this year you've decided it's time to get a new Explorer or an equally stylish Fusion. No matter which new Ford you've been thinking of getting, let us lend a hand. In addition to helping you get the new car you want, we can take your old vehicle off your hands. How? Through a trade-in. We offer you cash for your current car that you can use towards getting a new vehicle. And it doesn't matter whether you're looking to get a new or used car – a trade-in covers it all. Just by following three simple steps, you'll be well on your way to getting a new car and not have to deal with selling your old vehicle.
When you opt for a trade-in, you'll be getting the best of both worlds by avoiding the stress and hassle of selling your car and getting the new Ford that you want. This all sounds great, you think, but what happens if you still owe money on your present car? Despite what you might think, that's not a problem. Essentially, we offer you money for what your car is worth. You can spend it however you wish. Many people who are financing one car decide to use the money towards paying off an existing loan.
Depending on your car's estimated value, you might be able to fully pay off the loan or lease. In this case, you're free to get a new car and apply for a new loan. But even if you can't pay off the full loan with your car's trade-in value, no worries – you can put as much or as little as you'd like towards the car purchase and roll the remainder over into your new car's loan.
How Much Is My Car Worth?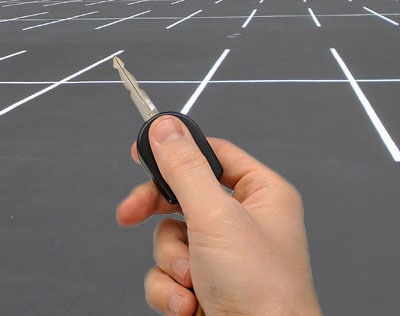 Once you learn about the advantages of a trade-in, you're probably eager to sign up. While we can give you money for your car, you'll need to find out first what it is worth. To do this, simply visit our website where we use a detailed calculator (that is actually quite user-friendly) to determine your vehicle's worth.
Your car's value is based on multiple factors including its age, its amenities, the model and trim level, and the projected rate of depreciation. Since the car's value can change by the day, we highly recommend getting a quote as close to the trade-in date as possible. Because the cost estimate is so specific, you should also put in as much information as you can to get the most accurate trade-in price.
What Can I Trade My Car in For?
Once you get a trade-in offer from us, you'll be able to put the funds towards any car you wish. Of course, since you need a new car to drive around, it makes sense to put that money towards a new Ford of your choice! Either way, we're here to make your dreams come true. We have a large, constantly-updated inventory of quality new and used vehicles. If we don't have the car you want right now, be sure to check back soon or let us know what you're seeking, as it may be here soon.