San Jose Ford Dealer Researches the New F-150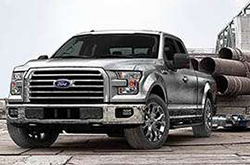 The Ford F-150 and its super duty cousins remain some of the most popular trucks on the road year after year. Offering an agile driving feel, excellent payload and towing capabilities and a comfortable interior, there is much to love in America's favorite pickup. This model year, the truck is getting a full redesign that includes a brand-new aluminum body frame.
Those looking for their next 2015 Ford F-150 in Santa Clara will find that Ford has gone even further in creating a fantastic truck, including a lighterweight frame that provides a sleeker exterior, as well as improved fuel efficiency. The truck's new aluminum frame has caused the truck to drop over 700 pounds, making it's handling even more nimble to drive around tight corners.
This model year, the F-150's cabin has been opened up by at least two inches and sports all-new materials that give the truck even more luxury features. Our 2015 Ford F-150 review was very impressed with several of the truck's new luxury amenities, including a panoramic sunroof, LED headlights and an 8-inch touchscreen.
The remainder of the F-series also get new redesigns - especially the F-250 and F-350. Among the redesign on the new models is a newly optional 6.7-inch turbodiesel engine that has increased the truck's power to 440 horsepower and 860 lb.-ft. of torque. If you're in the market for a 2015 Ford F-450 super duty then you'll be pleased with the truck's increased towing capabilities that now reaches over 31,200 pounds.
For more information about the all-new redesign keep reading our 2015 Ford F-150 review for a video review and model pics. To test drive the 2015 Ford F-150 in Santa Clara, visit our showroom and let one of our experienced and friendly sales associates take you through the entire F-series lineup today!