Take a Look Santa Clara Ford Shoppers - the C-Max has Arrived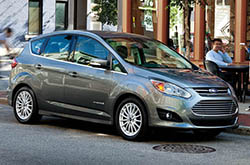 Seamlessly combining efficiency and performance isn't easy, but with over two decades of hybrid research and development under its belt, Ford has managed to produce a hybrid lineup that offers satisfying performance and exemplary fuel economy.
If you're shopping for a hybrid in the San Francisco Bay Area, come test drive the 2016 Ford C-MAX in Santa Clara at Frontier Ford. Two excellent models are available, including the standard hybrid and Energi plug-in, both of which feature Ford's lauded power-split technology, which enables operation in electric mode at higher speeds than any competitor out there.
If you're wondering what critics think about C-MAX, one of the first things mentioned in Edmunds.com's 2016 Ford C-MAX review is the lineup's impressive fuel efficiency. With the hybrid model you'll receive an EPA-estimated 40 mpg combined (42 city/37 highway), while the Energi plug-in hybrid delivers a remarkable 95 city/81 highway mpg-e. Again, if you think driving enjoyment might be sacrificed for efficiency, don't worry. Edmunds.com editors were also impressed by performance, noting that C-MAX offers quick acceleration and communicative steering, along with a well-tuned suspension that contributes to the car's refined road manners and responsive handling.
Inside the cabin, owners of the 2016 Ford C-MAX in Santa Clara will enjoy a quiet, tech-enhanced commuting experience. The interior is notably absent of road noise and technology abounds. Features include Bluetooth Hands-Free Phone, smartphone app integration, a USB interface, and the all-new SYNC 3 system with voice-recognition technology and a large screen. The new system offers the latest touch functionality, enabling users to swipe the screen and pinch their fingers in or out to zoom, just like one might do with a tablet or mobile device.
After reading the remainder of our 2016 Ford C-MAX review, come in to see the car in person. Technologies like the new SYNC 3 system and even the SmartGauge with EcoGuide instrument cluster, which displays awesome growing leaf and vine graphics, are features that you'll enjoy seeing and experiencing firsthand!