About Frontier Ford Edge Reviews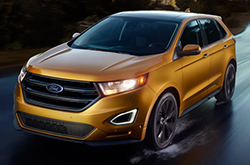 Coming off of a complete redesign last year, the 2016 Ford Edge makes its way onto the market with only slight updates. The five-passenger midsize crossover comes equipped with Ford's all-new SYNC 3 infotainment system as well as adaptive steering, a technology designed to improve steering efficiency. Aside from these additions, the Edge continues to offer smooth ride quality, first-class features and carlike driving dynamics. Available in SE, SEL, Titanium and Sport trims, the SUV caters to an array of buyers and auto enthusiasts throughout the industry. Read our 2016 Ford Edge review below to acquire additional knowledge about the crossover and its exceptional features.
The always stylish Ford Edge does not disappoint coming into the 2016 model year. The latest model is now equipped with adaptive steering, a system that redefines power steering. Developed to improve steering efficiency, the technology works by adjusting the steering ratio in conjunction with vehicle speed. At lower speeds, the system decreases the number of turns the driver has to make in order to effectively maneuver the vehicle, making it easier for drivers to park. At high speeds, steering is optimized, which allows drivers to switch lanes smoothly. In addition to this new system, the 2016 Ford Edge in Santa Clara has gotten rid of MyFord Touch and has replaced it with SYNC 3. The updated infotainment technology is more intuitive and responsive than the outgoing system, enhancing the in-car experience for all occupants.
All powertrain options remain the same for the 2016 Ford Edge in Santa Clara, California. A base turbocharged 2.0L four-cylinder is standard on the SE, SEL and Titanium, while the Sport boasts a 2.7L V6 engine. For drivers who want a little extra power, a 3.5L V6 is optional on the SE, SEL and Titanium. The displacement generates 280 horsepower and 250 lb.-ft. of torque across all three models.
Want to learn more about the new Edge available at Frontier Ford? Scroll down and keep reading our 2016 Ford Edge review.