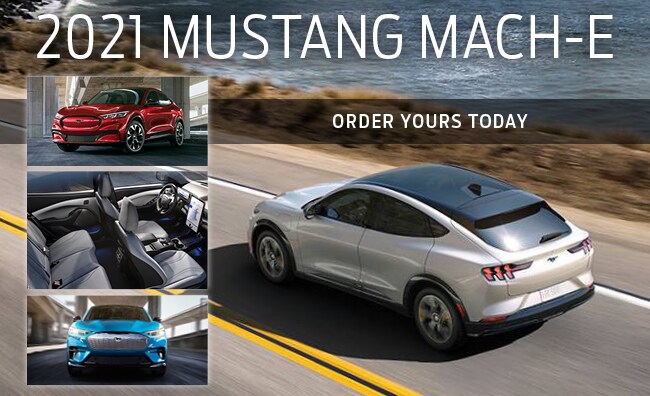 Get Ready to Meet the All-New 2021 Ford Mustang Mach-E!
Just in time for the latest model year, Ford shows that classic cars can certainly learn new tricks. This year, Ford adds an all-new vehicle to its world-famous collection of Ford Mustangs. The 2021 Mustang Mach-E shares many similarities with its predecessors, including a sleek design and exceptional power. However, some very distinct features set the Mach-E apart from the pack. The Mach-E is the first Mustang created with an electric motor and it's an SUV! The newest Mustang is fully powered by an all-electric engine and creates an impressive amount of power that rivals other top sports SUVs in the market. The Mach-E is also designed with your comfort and safety in mind with bold LED lights and a premium interior that has plush seating, a panoramic glass roof, and a high-end sound system.
2021 Mustang Mach-E Highlights
There are many commonly-shared highlights among vehicles in the Mach-E family, including an impressive mechanical system. All trim levels have an electric motor, although power output varies slightly. The base engine of the 2021 Mach-E produces up to 190 kW (255 HP) and up to 417 LB-FT of torque with all-wheel drive. Successive engines produce up to 248 kW (332 HP) and the range-topping engine with a power output of 342 kW (459 HP) and 612 LB-FT in torque. You have the option of getting either all-wheel drive or rear-wheel drive with most trims, although some exclusively have all-wheel drive or rear-wheel drive.
Inside, the Mach-E continues to offer an exhilarating driving experience. A wireless phone charging pad is standard on the base trim, along with a 10.2-inch infotainment display screen. Ambient interior lighting is standard beginning with the second trim level, which also gets heated seats and a heated steering wheel. There are also seats with contrast stitching in the mid-level trim and special Ford performance seats on the top trim. A premium Bang & Olufsen sound system is standard.
The Mach-E also turns heads on the outside with wheels that range from 18 to 19 inches. The top trim level, the GT, also has some custom exterior elements, including a gray carbonized front grille. Power-folding turn signals and LED lights are other notable features on the Mach-E. Some trims, including the CA1, get unique exterior design elements that are specific to the trim.
Available Models
The Mach-E is available in a standard design with several trims and a special performance edition GT. The standard Mustang Mach-E trim levels include the Select, Premium, First Edition, California Route 1 and GT.
If you want to stay up-to-date on all things 2021 Ford Mustang Mach-E, you've come to the right place. Contact us to learn more today.