If your Ford car, truck, van or SUV is making a screeching noise when you apply your brakes, then you'll need to bring it in for repair right away. For many people, brakes often can be ignored, because they are more concerned about other car services like oil changes, tire rotations and alignments. However, failing to have your brakes inspected is a big mistake.
Keep reading our comprehensive brake repair tutorial below to find out about ways you can keep your car brakes in great working order.
The Importance of Getting Your Brakes Serviced in Santa Clara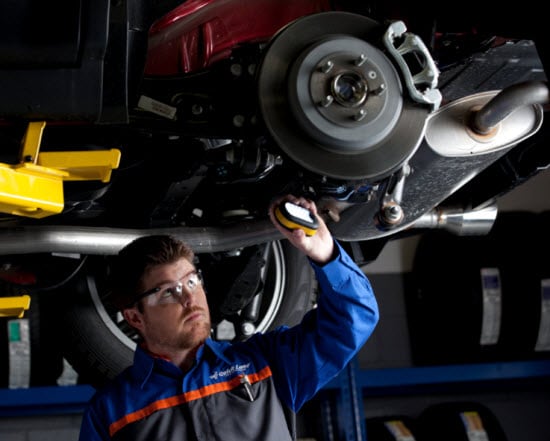 Brakes are one of the most vital components on your vehicle. If they are not working like they should, you could be jeopardizing the safety of everyone who is in your vehicle. Additionally, if there is a problem and you ignore having your brakes inspected, you might be left footing the bill for repairs due to severe damage to your brake system. These are just some of the many reasons why we highly recommend having your brakes examined every 12,000 miles. However, if you drive in heavy traffic, it's always a good idea to have them inspected even sooner.
What to Watch Out For
There are many ways to tell if your Ford F-150, Ford Taurus or other make/model is in need of brake repair. First, take a look at your brake pads by looking in between the spokes of your wheels. There should be at least a quarter inch of pad, if there's anything less than that, it probably means you need new brake pads. Here are some other warning signs to keep in mind:
You hear a loud grinding noise when applying brake pedal
Your steering wheel vibrates when coming to a stop
You have to apply excessive pressure to the pedal
Your brake pedal feels spongy
Why Choose Us?
With so many auto repair shops in Santa Clara, it can be difficult to choose which one is right for you. At Frontier Ford, we offer outstanding customer service and a wide range of service coupons that will help you save money. From installing new brake rotors on your vehicle to changing out brake fluid, we do it all out our Santa Clara Ford dealership. Plus, you'll feel assured in knowing that we only use genuine Ford parts when repairing your Ford truck, car or SUV. Visit us to learn even more about the car services that we provide. We look forward to seeing you soon!