Transmission maintenance keeps your vehicle from enduring severe problems that affect its overall performance and lifetime. We offer transmission service for any Ford you might drive, and we service other vehicle makes and models as well. Our factory-trained technicians provide affordable repair service when problems with the transmission occur, as they sometimes will. Built Ford tough is more than a slogan; it's a commitment to quality. However, as your Ford vehicle ages, components break down and problems occur. Luckily, our experts can handle minor and significant concerns with the transmission when you schedule service with us. The Q&A below can help you better determine when transmission service is necessary.
What Does Transmission Fluid Look Like?
New transmission fluid should be translucent in color, but some brands of fluid still use a dye that turns it a reddish-brown color.
When Should I Change My Transmission Fluid?

Change your transmission fluid according to the recommended manufacturer's schedule. Refer to your owner's manual to learn this frequency. Most vehicle manufacturers recommend that the transmission fluid be changed once every three years or 36,000 miles.
Can I Change My Own Transmission Fluid?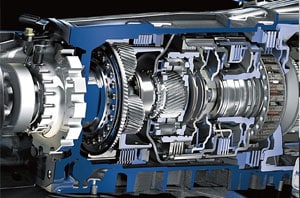 It is recommended that you schedule transmission fluid changes with our certified technicians. You can change your own transmission fluid, but if you lack the experience and expertise, what seems like a simple job can become very stressful. Our experts handle the service quickly, leaving you with more time to handle the many other stressors in life.
Why is it Important to Change My Transmission Fluid?
Your transmission keeps the vehicle running smoothly, but it does so with the help of transmission fluids. Transmission fluid keeps the transmission well-lubricated, and all of the parts underneath the hood can function correctly. Without this fluid, the transmission suffers tremendous damage. When the fluid from the transmission ages, it breaks down and causes sludge that can cause even more trouble. Changing the transmission fluid regularly prevents these issues.
How Much Does Transmission Work Cost?
QQuality transmission service may cost more initially but pays for itself in time. We offer quality transmission service and repair that prolongs the performance and life expectancy of the vehicle. Costs of transmission work vary from one job to another, and many factors influence the repair cost, including the type of problem you're experiencing. Check out our special deals and service specials to find spectacular offers that reduce service costs.
Service Hours
Monday

7am-6pm

Tuesday

7am-6pm

Wednesday

7am-6pm

Thursday

7am-6pm

Friday

7am-6pm

Saturday

8am-5pm

Sunday

Closed